"REVERSE EVERY NATURAL INSTINCT AND DO THE OPPOSITE OF WHAT YOU ARE INCLINED TO DO, AND YOU WILL PROBABLY COME VERY CLOSE TO HAVING A PERFECT GOLF SWING"
BEN HOGAN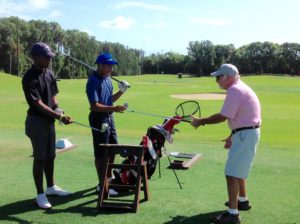 No instructor in the game of golf has ever resurrected more champion golf swings than Jimmy Ballard. Residing at the Ocean Reef Club in Key Largo, Florida, the founding "Pioneer of Connection" in the golf swing, Jimmy Ballard continues as one of the top golf instructors in the world. In 1988 alone, Ballard's "connection" method stimulated victories in four major international tournaments with the U.S. Open Winner Curtis Strange, (who would add another Open title in '89); Masters Champion Sandy Lyle; British Open victor Seve Ballesteros, and British Amateur champion, Sweden's Christian Harden. A teachers' "Grand Slam" if there ever was one. From top money winners, to PGA / LPGA / SR.PGA champions and record breaking accuracy merits, Ballard has been praised for their successes.
As an eighteen year old apprentice to mentor (ex-Yankee baseball player turned PGA touring professional) Sam Byrd, Ballard cultivated a knowledge of the mechanics of the golf swing, communicating the process with a characteristic flair that was astounding in it's precision and simplicity. During these early years, Ballard created a dictionary of golf terminology sufficient in it's scope to assist the beginner as well as the professional. His famous "Seven Common Denominators" and "Misleading Terms" swept golf magazine headlines nationwide, reaching international recognition by the late 1970's. His 1981 book, "How To Perfect Your Golf Swing," outlined the golf swing in sequential detail, specifying inaccuracies in teaching golf over the years due to his discovery of a "deceptive feel" as opposed to actuality, and clarifying the "identifiable essential movements present in great ball strikers "…. Stressing that "great ball strikers" have not been singular to one sport or activity. Arthur Ashe used them in tennis, Joe DiMaggio perfected them in baseball, and Ben Hogan mastered them in golf and Jimmy named it "Connection".
In the early 70's, Ballard's career took an important leap from primarily amateurs with the addition of PGA Touring Professionals to his steadily growing list of students. An LSU golf phoneme, turned tour professional, Benson "Mac" McLendon, had fallen prey to the crippling "stiff left arm". With his swing failing, he returned to his hometown of Birmingham, Alabama and to a highly recommended swing professor…Jimmy Ballard.
Soon, McLendon added two tour victories in 1976, the Southern Open and the Florida Citrus Open and a 1978 win at the Pensacola Open.
The register of visiting tour players began to read like a virtual "Who's Who" in golf… Johnny Miller, Leonard Thompson, Hubert Green, DeWitt Weaver, George Knudson, Miller Barber, Homero Blancas, Bruce Devlin, Jim Colbert, Tommy Aaron, Chi Chi Rodriguez, John Schroeder, Gary Player, Jerry pate, Jim Dent and John Brodie…the roster was just beginning. The LPGA heard about Ballard too…Jerilyn Britz, Alice Ritzman, Silvia Bertolaccini, Kathy Hite and Janie Blalock.
The 80's brought tour players such as…Curtis Strange, Hal Sutton, Peter Jacobsen, Sandy Lyle and Seve Ballesteros…just to name a few, who were all tremendously successful after working with Jimmy.
The lists go on and on. It was ex-49'ers quarterback John Brodie, then an NBC golf analyst, led an entourage of athletes from other sports. Former Redskin Sonny Jurgensen; football coach Frank Broyles; basketball greats Jerry West and Rick Barry; tennis great Arthur Ashe, and one of baseball's finest Steve Garvey; who all found common relationships through Ballard's teaching in their sport to golf.
Reaching back, it was John Brodie, the only NFL player to win a Champions Tour PGA event, who gave Ballard his first piece of video equipment. A new era of teaching golf awakened for Ballard. He could prove his theories concerning the mechanics of the golf swing! It was UNDENIABLE PROOF. His vast collections of still photographs of the great ball strikers were mere supplements to the luxury of video. Before and after video taping of each individual golf swing, proved his "Deceptive Feel" theory. It gave the credibility needed to quell the skeptic critics.
For eight years, beginning in '83, Jimmy conducted his famous "Workshops" at the Doral Golf and Country Club in Miami. It was here that countless amateur and a remarkable amount of tour players began their enlightenment of "Connection."
After missing the cut at the '87 Doral Ryder Open, Sandy Lyle wandered onto Ballard's private teaching grounds, where he was working with Hal Sutton, Curtis Strange, Hubert Green, Jerry Pate and Peter Jacobsen. He soon began his education of "Connection". Lyle went on to win the '87 Tournament Players Championship. He later added the '88 Masters and several European wins, including the Dunlop Masters, making him the first ever to claim both Masters Tournaments. The Dallas Morning News was quoted as saying, "Sandy was not looking for help the day he walked across the Doral…he was simply looking for answers…with the help of Ballard, Lyle began to work out the kinks."
Lyle and the rest of the Ballard contingent began practicing with the most unique tool ever created for golf. By incorporating Jimmy's theory of "Connection", the Jimmy Ballard Swing Connector® was invented to tie the lead arm to the body in a soft, but restrictive manner. It prevented the lead arm from running out of the socket, which causes 95% of all inconsistency in striking the ball. Used by thousands of amateurs, it gives immediate feel and instant feedback.
Named by Golf Magazine, the '80's "Teacher of the Decade", Ballard began setting his sights to the future. In '86, he was invited to join the telecast of the British Open at Turnberry for ESPN, returning to television after regular appearances from his highly popular home video instructional series, "The Jimmy Ballard Golf Connection". A demand for further directional videotapes was met with the '89 release of "The Fundamental Golf Swing."
His numerous articles have appeared in the following: Golf Magazine, Golf Digest, Golf Tips, Golf News, Golf World, Golf Week, Golf Range & Recreation Report, Travel & Leisure, National Golfer, The Met Golfer, The Executive Golfer, Esquire, Golf Illustrated, M inc., Golf Uruguayo, Golf Sport Das Internationale, Britain's Golf Monthly, Japan's Baffy and New Miami's business magazine.
Perhaps the most accurate article regarding Jimmy's career was published in the American Express Departures magazine written by James Dodson. To read this article  CLICK HERE!  http://www.departures.com/articles/ballad-of-jimmy-ballard
In the early '90's, Jimmy began work on a machine that would create the perfect golf swing. It would make you swing correctly and deny an incorrect move. It was from this design work that he discovered a more simple approach with the creation of a combination of training aids used to duplicate the perfect "Connected" golf swing. He is marketing these aids for release in the near future.
Ballard, in spreading his gospel, has spoken to most of the PGA Sections around the country. In December of 1996, he was selected as one of the top 4 teachers in the world, to make his presentation to the contingent of PGA members gathered from the United States as well as 23 other countries. He is credited with making the 1996 Tommy Armour PGA Teaching & Coaching Summit a major success.
Swedish superstar Jesper Parnevik, has had continued success after first coming to Ballard with Sweden's national Golf Team in the mid 80's. He credits Jimmy with "teaching him all there is to know!"
The 1997 Junior Champion was Jason Allred, who started working with Jimmy at 15. European Ryder Cup captain, Tony Jacklin improved after seeing Ballard.
In late 2004, Rocco Mediate came to give it one last chance. His back could not go on without making changes. "The guy is brilliant, just genius."
In March 2008 Rocco brought Ryder Cup Captain Paul Azinger to see Jimmy. "Since working with Jimmy, I've never hit the ball better in my whole life!"
In October 2009 Rocco brings Joe Durant into the connected world.
The list goes on…
Jimmy Ballard, the highly acclaimed "Pioneer of Connection" has withstood the years without the faintest waiver from his convictions concerning the golf swing.
Once I found Jimmy's book, golf got fun again.  Now that I have been to his clinic, it's even more fun.  I was on the verge of quitting when I found Jimmy.  And I had to dig deep to find a copy of his book.   But once I found it, I knew I was in the right place, learning the right things.   Jimmy has clear, concise, instruction that anyone can follow and perform.   You don't need superhuman flexibility and timing to perform what Jimmy is asking, and that is huge.
Jeff S.
Hi Jimmy,
I took a couple of lessons years back from you and had been playing poorly. I watched your tape and it all came back to me.  Two weeks ago my index was 9.7 , pretty good for a 73 yr old guy but not what I wanted and knew I was better, WELL I watched the tape and it all clicked in. SHOT my age 73 and beat it by one the next day You have given me a new lease on the golf swing My index is now 6.5 in three weeks.  Love ya, Jimmy!
Bill C.